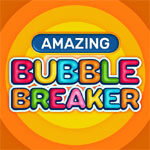 Amazing Bubble Breaker, in addition to the easy game mode, it has a medium and a hard mode for anyone who wants to test their skills. In Amazing Bubble Breaker, it's time to destroy the colorful bubbles! It's a very simple bubble game, but still, you have to be careful to get the highest score! If you are ready to burst the bubbles, start the game now!

Get ready for a very colorful board! The screen is full of bubbles. Your goal in this game is to match the bubbles as a group of two or more and clear the board. You should try to leave the fewest bubbles on the board at the end of the game. To start the game, click the play button on the main menu. Then you should choose the difficulty level as easy, medium or hard. You can also choose a theme such as classic, planet, sports or glass ball. So you can enjoy different playback modes.

Are you looking for a challenge? Great!