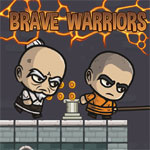 Brave Warriors to see how strong you are. You can start right from this page. Everything is ready to start.


What awaits you?
6 fantastic levels
nice cartoon graphics
monsters of all kinds to deal with
user-friendly interface
cool boosts


There are no shortcuts on this path
This valley is inhabited by hideous and dangerous monsters. Unfortunately, that is the only possible way to your goal. That means you have to cross it - one way or another.


How to play Brave Warriors
Explore the 2D world with care and caution. Get ready for a fierce fight. Keep your weapons ready and open your eyes. Control with the keyboard or use the icons on the screen of your portable device. Watch out for the oncoming beasts. Attack them with the X button or the corresponding icon. Stay focused, don't let the main character fall off the platform. Collect coins and power-ups. As for real money, save it. The whole experience will cost you zero cents. Enjoy the game Brave Warriors free at all times. Good luck in this eternal battle with evil!

Courage is not having fears but facing them. Join the game