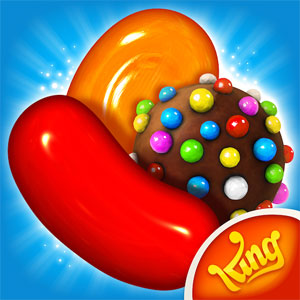 Candy Crush Saga Online game today. The most popular game today, loved by millions of players around the world. Join Tiffi and Mr. Toffee on their epic journey in an online game full of delicious treats! Isn't it the cutest game ever?


How to play Candy Crush Saga
The game is played by swapping candies in any direction (as long as it is not blocked) to create a set of 3 or more matching candies. When they match, the candies will break. If you create stacks of more than 3, you will create candy combos. These are powerful candy crushing machines that work in different ways.

Connecting 4 candies will create a special candy that will burst the entire row if it matches part of another set of 3 or more candies.
If you connect 5 or more candies in a T or L shape, you will create a "wrapped candy". This one explodes and destroys surrounding candies when it connects.
If you connect 5 candies in a row, you will get a color bomb that looks like chocolate with crumbs. When you replace it with another candy, the color bomb removes all candies of that color from the board.


Android and Iphone version of Candy Crush Saga game
If you want to play candy Crush Saga game on iPhone or Android, you can download it for free:
iPhone - Open the app store, tap Search, search for Candy Crush Saga, tap the GET button next to the "Candy Crush Saga" title, and enter your password or ID when prompted.
Android - Open the Google Play Store, search for Candy Crush Saga, tap INSTALL, then tap ACCEPT when prompted.

If you're playing Candy Crush Saga on a desktop or web browser, skip this step.

All King's games are recognizable by the word "Saga" in their names, so in addition to the Candy Crush Saga game, as their most famous, there are also a dozen other games, such as Bubble Witch Saga, Pyramid Solitaire Saga, Pet Rescue Saga, Farm Heroes Saga , Candy Crush Soda Saga...

Remark:
Don't forget the fact that this game uses tricks like "wait or pay". This game is a kind of cover. It's free, but it actually leads people to spend disproportionately large sums of money. Just breaking the candies is not the point of the game because since the game has only five lives that are filled every half an hour, there are also many paid bonus contents offered.


HTML5 vs Flash
Recently, KING also launched an HTML5 version games for desktop computers. Unfortunately, the reviews are not so positive, so we continue to play in the Flash version. The developers have stated that nothing will actually change, just the game engine. Since Flash is outdated and you have a problem with Chrome, click the (i) on the left side of the multipurpose box (the so-called web address) and set Flash to Allow. It is also recommended to go to Advanced Settings → Content Settings → Flash and set it to Allow for all sites.


Candy Crush Saga - the game that broke all records
King first released Candy Crush Saga on Facebook in April 2012. Within a year of its launch, it had been downloaded 500 million times. The numbers continued to grow. Currently, the games in the Candy Crush franchise (which includes Candy Crush Soda Saga and Candy Crush Jelly Saga) have been downloaded a total of 3 billion times. He has 70 million fans on Facebook. And the app not only sits unusable on the phone, but 1.1 trillion rounds of the game have been played worldwide so far.

Start playing