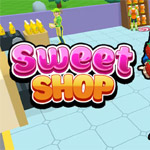 Sweet Shop 3D is a fun arcade game where you manage your own pastry shop. Sell ​​all kinds of exciting sweets to your customers as you expand your confectionery and hire new workers.

U Sweet Shop 3D you can manage the business while running around stocking the shelves and making delicious sweets for your shop visitors. The frenetic nature of doing both means you're constantly trying to keep up with the growing demand for your delicious products. Addictive!


Make and sell delicious sweets
Sweet Shop 3D it's not just a store - it's a whole candy factory! Pick fruit from the trees and store it on the shelves. Buy machines to turn fruit into yogurts, candy bars, ice cream and more delights as you expand your shop.


Hire staff to maintain inventory on the shelves
You will need staff to help you on your journey as you start selling more colorful candies and fruits. You can hire farmers to pick fruit, cashiers to take care of the cash register and workers to keep the shelves stocked with an abundance of delicious sweets.


Upgrade your abilities
The upgrade will help you pick up and stock more items at once, reducing the number of customers waiting on the shelves for their favorite products. Staff members can also be upgraded with the same effects.

Features

Production and storage of various sweets
More cute products for sale
Hire workers to help you
Upgrade your abilities

Devshifu Studio developed this game.
---
control
WASD or arrow keys or drag left mouse button = move
Left mouse button = interaction with in-game buttons