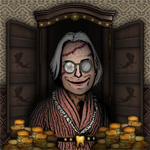 Forgotten Hill: The Wardrobe 4 igrate kao zubar koji nema sreće. Bez novca je, u dugovima od stotinu zlatnika i ima vrlo bolesnog brata o kojem se mora brinuti. Približava se vrijeme plaćanja duga, ali njegov rad stomatologa nije dovoljno plaćen. Kako se više nema čemu okrenuti, izlaz pronalazi u garderobi koju je dobio od pokojne sestrične. Sadrži mračnu tajnu koja može riješiti sve njegove probleme, ali po užasnoj cijeni... Riješite zagonetke u svom uredu, pomozite svojim pacijentima i razotkrijte mračnu tajnu ormara. Imate li oštar um i čelične živce potrebne za rješavanje ove strašne misterije?


Kako igrati Forgotten Hill: The Wardrobe 4?
Koristite miša za kretanje po uredu i rješavanje zagonetki!


Tko je stvorio Forgotten Hill: The Wardrobe 4
Forgotten Hill: The Wardrobe 4 kreirao je FM Studio. Igrajte njihove druge igre iz serije Forgotten Hill: The Wardrobe: Forgotten Hill: The Wardrobe, Forgotten Hill: The Wardrobe 2 i Forgotten Hill: The Wardrobe 3 ​

U