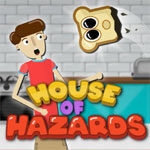 House of Hazards)? Nakon što se probudite, odete u kupaonicu, popijete kavu, zalijete cvijeće i provjerite poštanski sandučić prije nego odete na posao. To je vaša svakodnevica. No, postoje neke opasnosti i prepreke koje biste trebali izbjegavati dok radite svaku pojedinu stvar prije napuštanja kuće.

Na primjer, možda vas napadnu vrata kuhinjskog ormarića i toster. Ili, kad odete u vrt na zalijevanje cvijeća, možda vas napadnu ljuljačka ili igračke. Osim ovih, u ostalim dijelovima kuće očekuju vas opasnosti od iznenađenja. Vaš je cilj napustiti kuću što je brže moguće izbjegavajući opasnosti i prepreke.

Možete otključati nove likove svaki put kad nadmašite svoj prethodni rezultat.
---
IGRAČ 1:
Skok: "W"
Pomaknite se lijevo-desno: "A, D"
Čučanj i pucnjava: "S"

IGRAČ 2:
Skok: "I"
Pomaknite se lijevo-desno: "J, L"
Čučanj i pucnjava: "K"

Koliko brzo možete napustiti kuću opasnosti (