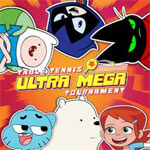 Table Tennis Ultra Mega Tournament je uzbudljiv turnir u stolnom tenisu s favoriziranim likovima iz crtanih filmova, uključujući Gumballa, Jakea, Finna, Robina i još mnogo toga!


Kako se igra Table Tennis Ultra Mega Tournament?
U ovoj igri stolnog tenisa možete igrati brzi turnir s likovima iz vaših omiljenih animiranih serija Cartoon Networka. Svaki turnir sastoji se od niza mečeva i niza posebnih izazova, poput pogađanja ili izbjegavanja pokretnih meta. Završite svaki turnir kako biste otključali punu kolekciju od 20 crtanih junaka i zlikovaca. Svaki meč se igra do 5 bodova, tako da prvi igrač koji postigne rezultat od 5 pobjeđuje.

Pomaknite reket ispred lopte kako biste servirali ili vratili loptu. Lopta mora jednom odskočiti o stol prije nego što se uzvrati. Volley udarci nisu dopušteni. Ako vaš protivnik ne dopusti lopti da odskoči na vašu stranu stola prije nego što ode preko ruba, osvojit ćete bod. Runde možete ponoviti onoliko puta koliko je potrebno za pobjedu.


Koji se likovi pojavljuju u Table Tennis Ultra Mega Tournament?
Postoji deset likova koje možete igrati od početka igre i deset likova koje možete otključati osvajanjem turnira. Vaši početni likovi su Beast Boy i Raven, Ice Bear, Gumball, Jake the Dog, Craig Williams, Gwen Tennyson, Buttercup, MaoMao i Adorabat.
Osvajanjem turnira također možete skupiti 10 drugih likova iz crtanih serija We Bare Bears, Adventure Time, The Amazing World of Gumball, Teen Titans, Powerpuff Girls, Thundercats Roar, Craig of the Creek i Ben 10.


Kada je objavljen Table Tennis Ultra Mega Tournament?
Datum izlaska ove igre je srpanj 2020.


Tko je napravio Table Tennis Ultra Mega Tournament?
Ovu igru ​​je za Cartoon Network kreirao programer igrica Happylander.
---
Kontrola: Koristite miša