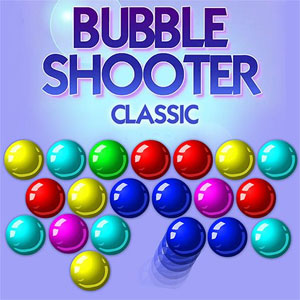 Bubble Shooter game, one of the most played games in the world. Eliminate all the bubbles by making combinations of 3 or more.

Bubble Shooter it can be played a thousand times, and no two games will be alike. You are forced to adapt your winning strategies to each game, and this is why the game is both simple and complex at the same time. The basics of Bubble Shooter are very simple, but don't be fooled. It's easy to play, but hard to master, and it's for this reason that Bubble Shooter is recognized worldwide as an all-time classic.


History of Bubble Shooter
Bubble Shooter is originally from the game Puzzle Bobble 2, created by Taito Corporation back in 1995. Puzzle Bobble 2 was and still is a popular arcade game and in 2001 the popularity of the game rose to unparalleled heights becoming available as a PC game called Bubble Shooter as we know it today.


A game for children and adults
Bubble Shooter was created as a game for children, but the game mechanics attracted adult players as well. A simple concept of shooting a bubble / ball in a certain direction and the name "Bubble Shooter" are not exactly elements that would seem to attract adults, but it was quickly recognized as a game that has quite deep and complex mechanics, despite its immediate simplicity. Therefore, the natural development was to design a Bubble Shooter game not only for PC, but also for other devices. Simple the design of the game has made the game easily accessible and playable on almost all devices. There are no long intros, high graphics requirements and complex character interactions - just simple, challenging fun in its purest form. Today, the game can be found in many different forms, mods and design on all possible devices for electronic gaming, but the concept remains the same, you have the opportunity to play one such modification on our portal.


Features of Bubble Shooter Classic game
A classic, tricky bubble popping game
More challenging as you progress
Remember your best score for next time
Pleasant sound effects and colorful bubbles
---
How to play Bubble Shooter?
On PC: Move mouse to aim and left click to shoot
On mobile: tap to shoot ​

This is a great remake of the original