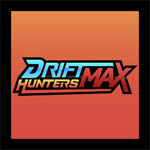 Drift Hunters MAX is a hyped version of the franchise Drift Hunters. More cars. More tracks. More upgrades. Better graphics. More and more.

With more crazy cars and stunning tracks than ever before, this all-new exclusive update also offers newly improved visuals and physics. We firmly believe that it is Drift Hunters MAX the ultimate online drifting game in the browser. So, it's time to get behind the wheel and start destroying tires!

Providing an amazing free-to-play experience, Drift Hunters MAX brings you the chance to get behind the wheel and drift using some of the latest cars (like the Toyota GR Supra) on some of the most beautiful tracks around the world.


List of cars in the game Drift Hunters MAX
As promised, Drift Hunters MAX offers more cars than ever – with a whopping 37 vehicles to choose from. From JDM legends to Euro classics alongside some of the greatest supercars in history, Drift Hunters MAX has it all.


Toyota Trueno GT-APEX (AE86)
Mazda Miata ND (ND)
Datsun 240Z (S30Z)
Nissan 240SX/180SX (S13)
BMW E30 M3 (E30)
Subaru Impreza WRX (GR)
Mitsubishi Lancer Evolution VIII (EVO)
BMW E36 M3 (E36)
Toyota GT86/Subaru BRZ/Scion FR-S (86)
Honda S2000 AP1 (S2000)
Nissan Silvia 240SX/200SX (S14)
Mitsubishi Lancer Evolution X (EVOX)
BMW E46 M3 (E46)
Nissan Silvia S15 (S15)
Mazda RX-7 FD Type R FD3S (FD3)
Infiniti G35 Coupé (G35)
Ford Fiesta ST (FRS)
Nissan 370Z Coupé (Z370)
Toyota Supra MKIV – JZA80 (JZ90)
BMW 1M Coupe (E82)
2021 Dodge Charger SRT Hellcat (CHRG)
Mercedes Benz AMG CLA 45 (CLA)
Lexus GS (GS)
Ford Mustang GT Fastback (GT500)
BMW E92 M3 (E92)
Nissan Skyline R34 GT-R (R34)
Dodge Challenger SRT Hellcat (SXT)
BMW 3 Series (F82)
Toyota GR Supra (SPR19)
Lexus LFA (LFA)
Nissan GTR (R35)
RWB Porsche 911 993 GT (993)
Ferrari F40 (40F)
Lamborghini Countach LP500 (LP500)
Dodge Viper 2014 (GTS)
Lamborghini Huracan STO (HRCN)
Nissan Silvia 240SX/180SX (PS13)
Drift Hunters MAX playlist
With a total of 12 tracks, most of which have never been seen before or been completely remastered to make them better than ever, there's even more variety to choose from, providing countless hours of entertainment.
City Streets (Playground)
Ohio (Racetrack)
Akagi (Touge)
Icefield (Racetrack)
Nevada (Playground)
Emashi (Racetrack)
Container Yard (Racetrack)
Spain (Racetrack)
Waterfront (Playground)
Greenstone (Racetrack)
Countryside (Racetrack)
Tyshen (Racetrack)
Game Features Drift Hunters MAX
We are proud that Drift Hunters MAX has more features than ever before.

37 crazy drift cars to unlock and maximize their true potential
12 brand new never seen before cars chosen by Drift fans
12 tracks, with many existing tracks updated to look and ride better than ever
More detailed car tuning than ever before
Performance Upgrades - Use your earnings to build the ultimate drifter
Realistic drift physics
Improved graphics
Collect drift points and earn money before you build the perfect drift car and challenge your friends
Drift Hunters MAX tuning
Drift Hunters MAX lets you turn your stock car into a tire-killing drifting weapon with its extensive upgrade and tuning capabilities. Performance upgrades include brakes and weight reduction along with improved transmissions, turbines and engine improvements. As you earn money in the game, different levels of upgrades are available, from "Stock"i"Street"to"Racing"i"Pro" for those who want to build holy grail drifters.
---
control
Up/W button – Gas
Down/S key – brake
Left/A key – turn left
Right/D key – turn right
Spacer - handbrake/e-brake
Left SHIFT – shift up (manual shift)
Left Ctrl key - shift down (manual shift)