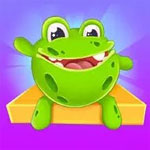 Frogiddy je arcade game in which you play as a frog and try to jump as far as you can, but this time higher.

The game supports adventure mode, where you ride a frog and wield a large weapon as you try to survive and climb back to the surface. As you level up, you unlock new powers, weapons, challenges and fight tough bosses. This is an extremely attractive game when combined with special features such as jumping, overcoming obstacles and shooting.

The game is under active development - weapons, items, enemies and more are constantly being added.
---
control
Use WASD keys to move or arrow keys
Use the left mouse button to stick out the tongue
Use the right mouse to shoot