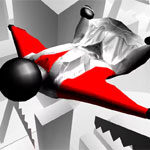 Complete all missions to unlock new locations and perform aerial stunts just to show off your skills. Think you can pass every mission? Find out now and enjoy the game Stickman Wingsuit!
---
control: WASD = movement, mouse = stunts

Control a stickman in a wingsuit and fly through various obstacles to complete missions. While falling hundreds of meters above the mountain, you will have to complete different types of tasks, such as passing through marked circles or destroying targets by dropping grenades.